FURNITURE AND STORAGE NOT PERMITTED IN THIS AREA SIGN
Spend

$49.49

to

FREE SHIPPING
Brushed Aluminium
- High quality UV printing
- Light weight
- Self adhesive back
- Stocked & ready to dispatch
Custom options available
Design, material, size & colours
The FURNITURE AND STORAGE NOT PERMITTED IN THIS AREA SIGN meets BCA requirement as an essential signage for emergency evacuations, ensuring people can find their way to the designated safe area. This sign also prevents misuse of the door, helping to maintain fire safety compliance.

Product Specifications / Options:

Standard Stock

Brushed Aluminium with full back double-sided tape
Light Weight
High Quality UV Printed

Custom Signs
We can make custom signs according to your specifications. Here are some options to choose from: 

Material Options:  Brushed Aluminium, Composite Panel, Perspex, Stainless Steel
Text and Graphics Options:  ​Direct UV Printing, Laser Engraving, Vinyl Lettering, Laser Cutting

Contact us for other requirements. 
View full details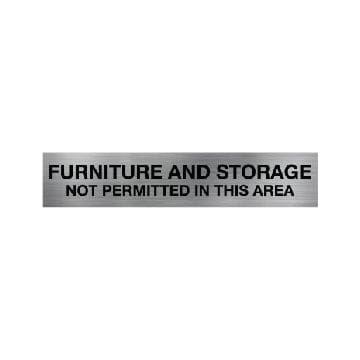 FURNITURE AND STORAGE NOT PERMITTED IN THIS AREA SIGN